Malachi Farrell | PUBLIC ENEMIES
From 18/02/2016 To 23/04/2016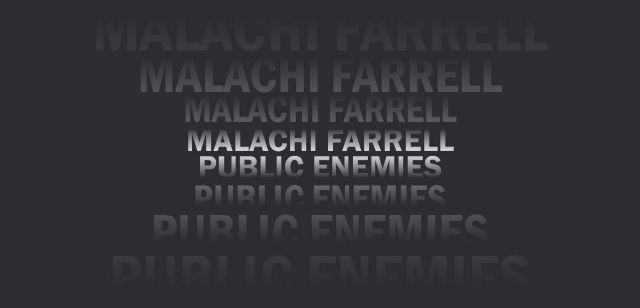 "Southern trees bear a strange fruit,
blood on the leaves and blood at the root,
black body swinging in the Southern breeze,
strange fruit hanging from the popular trees"
Public Enemy is the first solo exhibition in Italy by Malachi Farrell (1970), an Irish artist grown up in Paris, who will present a series of installations with electronic applications in motion. After the joint exhibition Une Histoire (2015) at the Centre Pompidou, curated by Christine Macel (Director of the Visual Arts Sector of Venice Biennale to be held in 2017), a solo exhibition at the Crypt London, several years of experience at the Galerie des Enfants at Pompidou – Centre Pompidou has been the venue of sundry Farrell's exhibits and performances -, many exhibitions in Germany at Hans Arp Museum and Schrin Kunsthalle and Money and Value/The Last taboo exhibition (2002), in Biele, Switzerland, curated by Harald Szeemann, Farrell proposes at Raffaella De Chirico Contemporary Art a series of unique installations of his artistic research.
Farrell uses sound, light, complex electronic circuits made entirely by him and his work has also been contaminated by punk and culture industry, as well as street theatre. Being intensely dramatic, Farrell's work is impregnated with caustic sarcasm and rough irony. His objects recall the bachelor machines of historical avant-garde and seem to belong, to some extent, to Fluxus movement aesthetics who used poor and waste materials. Creating apparently simple mechanisms, Farrell superimposes a socio-political reflection that draws from imbalances and contradictions of the present and transforms them into a theoretical vision.
Among the key concepts of Carl Schmitt's lapidary formulation, there was one concerning the relationship between friend and enemy as the real essence of a politician: there is no need that the political enemy is morally evil or aesthetically ugly. He is existentially stranger to those whom, as friends, are existentially similar to him. In this sense, the enemy is not a private inimicus, but the hostis, a public enemy.
Strange Fruit (2010) will be one of the works in the exhibition. The title is inspired by the homonymous song written by composer Abel Meerpol, whose lyrics are a strong complaint against lynching of blacks in the Southern United States. This song had been masterfully interpreted for the first time, in 1939, by the Afro-American singer Billie Holiday at the Café Society in Greenwich Village. The "strange fruit" mentioned is a dead man's body hanging from a tree. Similarly, in Farrell's installation, hanging old shoes from above are the metaphor of a humanity left "hanging", dangling, as a representation of a strong social crisis. Strange Fruit's shoes have a singing voice. It is Peters Sellers' Nazi version of She Loves You (Beatles) who makes them sing - precisely when two German soldiers are mounting the guard, each one portioning the lines of the song -, as a caricature of the ghost of the dictatorship, with reminiscences of Chaplin.
Public Enemy is a US rap group, known for political themes in their lyrics, for their strong criticism of the media, and their focus on African-American community. In Give them an inch and they take a mile installation (1996), Farrell has made a small wooden house from which old moving branches are sprouting. They resemble a cuckoo clock from which wood saws and circular saws are coming out. As in a small theatre, the blades are "singing" as synchronized with Flash Gordon's Queen cover performed by Public Enemy, staging a visual and acoustic attack.
Could the horror be fun? Pans Freak installation, consisting of 12 "talking" pans, is the representation of a concept in which fear and sense of humor are bound.
Through his sculpture called Coke, the artist finds in the use of drugs, particularly cocaine use, another public enemy in the declination of the idea of success that inevitably accompanies the winner cliché, revealing a person actually dominated by a subjugation to the cliché itself.
Art Exhibitions Turin